A Comprehensive Evaluation of Casement Windows: A Glaziers Perspective
As a professional glazier with over 3 decades of hands-on experience in Australia's window & glass industry, I have had the privilege of working with numerous window designs. Among these, casement windows are a notable choice due to their unique characteristics and functionality. A casement window is essentially a window frame hinged at the side with variations like top-hung and bottom-hung designs. These windows are a common choice in residential and commercial settings, given their superior ventilation and light penetration capabilities.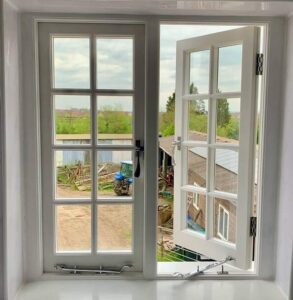 Advantages of Casement Windows
Superior Ventilation
Casement windows are a boon for buildings located in hot and humid climates. When fully open, these windows facilitate a robust airflow, enhancing the overall ventilation of the room.
Abundance of Natural Light
The design of casement windows is such that it optimises the amount of natural light entering a room, potentially reducing energy costs and creating a more welcoming ambiance.
Contemporary Aesthetics
Casement windows are favoured for their clean lines and straightforward design. They can add a modern touch to any building, contributing significantly to the aesthetic value.
Ease of Operation
The simple handle mechanism of casement windows makes them easier to operate than their double-hung or sliding counterparts. They can be effortlessly opened or closed with a mere turn of the handle.
Ideal for Hard-to-reach Areas
Casement windows are an excellent option for challenging spaces, such as areas above the kitchen sink where reaching out to open or close the window can be difficult.
Disdvantages of Casement Windows
High Maintenance Requirements
Casement windows necessitate more frequent maintenance than other window types. Over time, the hinges and seals may deteriorate, leading to potential air and water leaks.
Higher Cost
Compared to alternatives such as double-hung or sliding windows, casement windows tend to be more expensive due to their specific design and functional elements.
Compatibility Issues
The outward opening mechanism of casement windows restricts the installation of flyscreens or storm windows.
Size Limitations
The size of casement windows is constrained by the hinge strength, which makes larger casement window installations unfeasible.
Integral Parts of a Casement Window
Sash – The sash, the window's inner section, secures the glass panes in place.
Glass Pane – The clear part of the window that allows light penetration and views.
Hinges – These elements facilitate the opening and closing of the window.
Locking Handle – This feature ensures the window's security when closed.
Handle – The mechanism used to open and close the window.
Types of Casement Windows
Casement windows, with their versatility and range of customization options, can be a suitable choice for various architectural styles and functional needs. Let's delve into the main types of casement windows that are commonly used:
Single Frame Casement Windows
Single frame casement windows consist of a single sash that is attached to the frame by hinges. This is the simplest and most common design found in many residential and commercial settings. The single sash can be swung outwards for maximum ventilation and easy cleaning. It's often selected for its simple, elegant design and ease of use.
Double Frame Casement Windows
Double frame casement windows feature two sashes, each of which is attached to the frame by hinges. This design allows for a wider opening, facilitating increased airflow and providing a larger, unobstructed view. This type is particularly beneficial for spaces that require extensive ventilation or those desiring a broader scenic view.
Push-Out Casement Windows
Push-out casement windows are a variation where the sashes are hinged at the side and open outward. Instead of a cranking mechanism, these windows use handles, allowing the sashes to be pushed open. This style is often found in homes aiming for a more traditional or vintage aesthetic, as the design lends a classic feel to the interiors. Additionally, push-out casement windows are ideal for spots where reaching a crank might be difficult.
French Casement Windows
French casement windows consist of two sashes without a vertical post in the middle, allowing for a completely unobstructed view when opened. Much like traditional French doors, these windows swing outwards to provide maximum ventilation and light. They add an elegant and timeless appeal to any building, making them an excellent option for classic and sophisticated architectural designs.
Below are some common queries about casement windows:
How long should casement windows last?
With regular and proper maintenance, casement windows can have a lifespan of 20-25 years.
Do casement windows require maintenance?
Yes, the crank of casement windows needs to be well lubricated, and seals and hinges should be periodically inspected for any damage to prolong the window's life.
Are casement windows more expensive than double-hung windows?
On average, casement windows cost approximately 20-30% more than double-hung windows.
What are common issues with casement windows?
Air and water leakage due to damaged or worn-out seals and hinges are common issues. Additionally, casement windows can become stuck or hard to open over time.
Case Study 1: Installing Casement Windows for Mr. Thompson's Beach House in Sydney Northern Beaches
Situation: Mr. Thompson, a resident of a beachfront property in Manly NSW, wanted to install casement windows in his home. He wanted better ventilation and more sunlight coming into his house.
What We Did: After assessing Mr. Thompson's house and his specific needs, we designed custom casement windows. These windows had rust-proof hinges and seals to withstand the seaside weather. We installed these windows in areas where the sea breeze was the strongest.
Result: After we finished the installation, Mr. Thompson noted that his house had improved ventilation and was brighter due to more natural light. He also appreciated the modern look of the casement windows. He found that he needed to clean the windows more frequently because of the seaside conditions, but he was comfortable with it considering the significant improvements he saw in his home.
Case Study 2: Replacing Windows at Hambledon Cottage in Harris Park NSW with Casement Windows
Situation: The caretakers of a heritage building in Parramatta area wanted to replace their old windows. The new windows needed to fit the building's historic aesthetic and improve its thermal efficiency.
What We Did: We opted for casement windows with double glazing for this job. We paid careful attention to ensuring that the design and the materials used would match the historic charm of the building and last longer.
Result: The new casement windows not only preserved the historic aesthetic but also significantly improved the building's thermal efficiency. The caretakers were pleased with the result, even though they found the customized casement windows a little pricey. They thought the cost was justified by the reduction in their heating bills and the improved aesthetics.
Case Study 3: Installing Casement Windows in Mrs. Henderson's High-Rise Apartment


Situation: Mrs. Henderson, an owner of a high-rise apartment in Sydney, wanted to replace her existing windows. She wanted to reduce the noise from the outside and enhance the ventilation.
What We Did: We recommended and installed casement windows with acoustic glass. These windows, known for their excellent sealing capabilities and ventilation, were installed in key areas of the apartment, such as the living room and bedrooms.
Result: Mrs. Henderson reported a noticeable decrease in noise levels and appreciated the enhanced ventilation that made her apartment feel less stuffy. She was a little inconvenienced by the inability to install flyscreens, but overall, she was very satisfied with the improved quietness and ventilation provided by the casement windows.
Comparisons With Other Types of Windows
In my experience, I've found that each window type offers unique benefits and trade-offs. Comparisons with other windows such as sliding windows, sash windows, and louvre windows can further illuminate the pros and cons of casement windows. Links to detailed reviews and case studies on these window types can be found below: